Empowering students with language-based learning differences

Siena Blog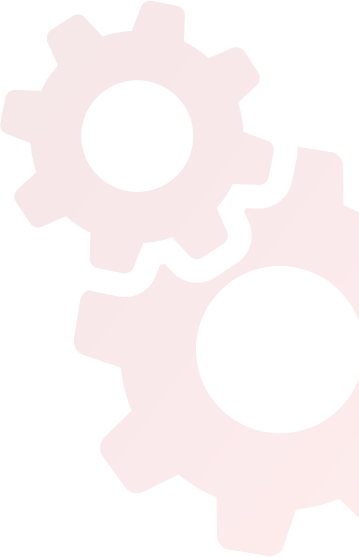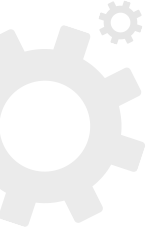 News
The Siena School Blog
Posts Tagged "books"
October 31, 2023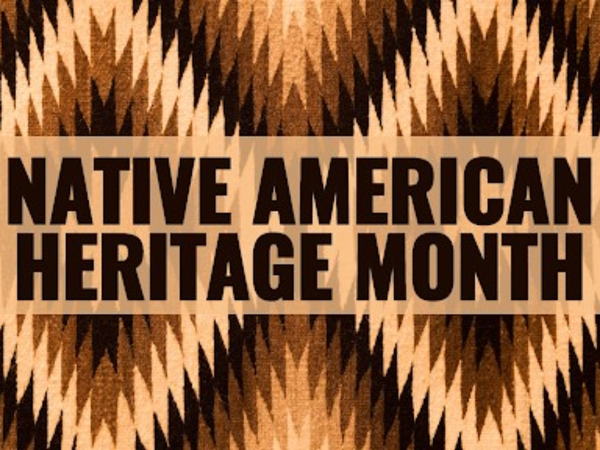 For Native American Heritage Month 2023, Siena is highlighting some artistic and cultural contributions to commemorate during this important month. See below for books, podcasts, and other resources of interest to guide you.
Native American and Indigenous Book Recommendations
Here are some recent fiction and nonfiction books by Native American and Indigenous authors to explore: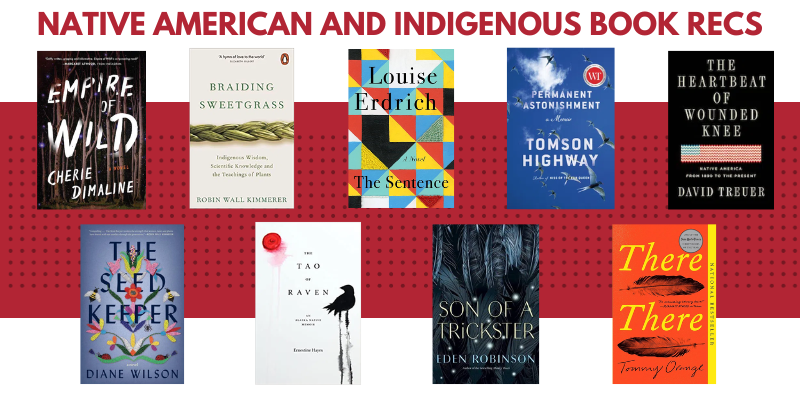 Get more Native American and Indigenous book recommendations from Book Riot, USA Today, Good Housekeeping, and Penguin Random House.
Native American and Indigenous Podcast Recommendations
Here are some podcasts about various Native American and Indigenous topics to explore:
Get more Native American and Indigenous podcast recommendations here: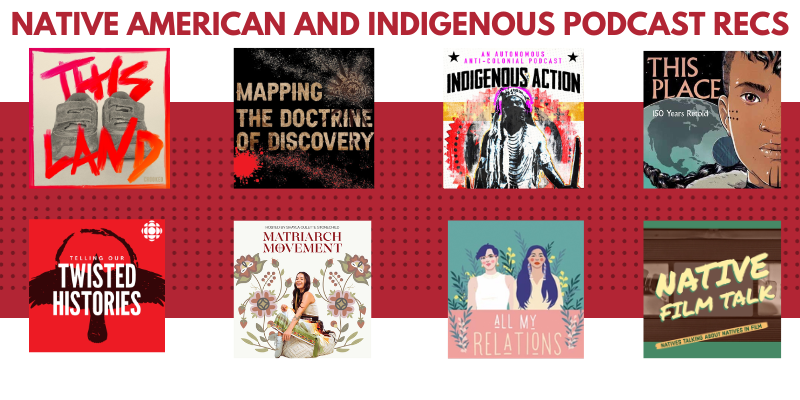 Resources for Native American Heritage Month
November is filled with events celebrating Native American history, culture, and heritage. Here are some resources to start with:
Siena Resources
The Siena School blog has other heritage month spotlights related to innovative dyslexia education, including Chicano muralist Ignacio Gomez, Mexican writer and activist Victor Villaseñor, WNBA stars A'Ja Wilson and Jewell Loyd, NFL star Rashan Gary, poet Amanda Gorman, and others.
Learn more about Siena's commitments and ongoing initiatives for Diversity, Equity, Inclusion, and Belonging.
December 14, 2022
Looking for book recommendations to support dyslexic readers heading into winter break? Let Siena's elementary and middle school teams help.
With winter break approaching, it's important for students—especially ones with language-based learning differences—to read for at least 20 minutes a day to keep their literacy, decoding, and related skills honed. Regular daily reading will help keep students engaged through winter break with a variety of enjoyable, teacher-recommended books, series, graphic novels, short story collections and more.
Elementary School Book Recommendations
Here are some of our elementary classes' top book recommendations this year so far, as suggested by elementary teachers:
Elementary student Ania recommends Flunked: "I thought it was really interesting, and I liked that I never knew what was going to happen next." Ania's classmate Grayer really enjoyed Nick and Tesla's High-Voltage Danger Lab: "It was a good book. It was fun to read about the brother and sister making things with their uncle in his lab."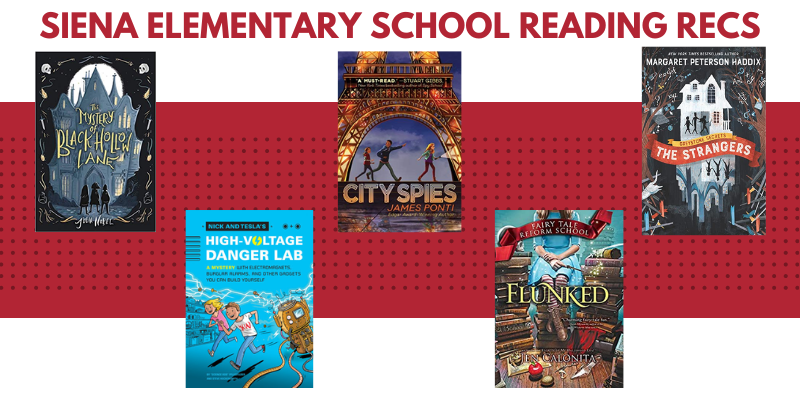 Middle School Book Recommendations
Teachers from Siena's middle school English and Reading teams recommend these books for readers in 6th to 8th grades: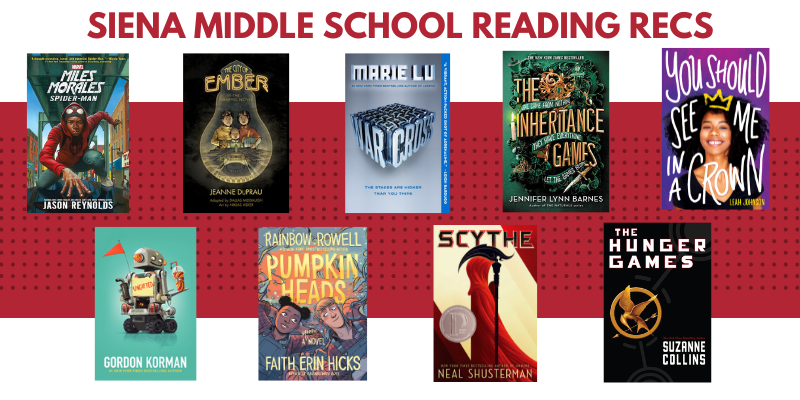 Resources for Book Recommendations
Young readers who prefer audiobooks can look for these and other books in the offerings from Learning Ally, Audible, and the Young Adult Library Services Association, among other resources.
Education consultant Ann Dolin wrote about engaging reluctant readers over summer break, including a handful of recommendations for different ages and suggestions for reading as a family. Although winter break is shorter than summer, parents could adapt some of Dolin's ideas for their students—such as starting a book series to pique their interest in the next few weeks.
Whether it's over winter or summer break, giving students some control over the process of selecting books when they're not in school can motivate them to read for at least 20 minutes a day.
Here are some additional resources to help students with summer reading:
See Siena's blog for winter break podcast recommendations, summer reading recommendations, and posts about authentic assessments at Siena and about a handful of Siena alumni who've returned as staff members.
July 26, 2022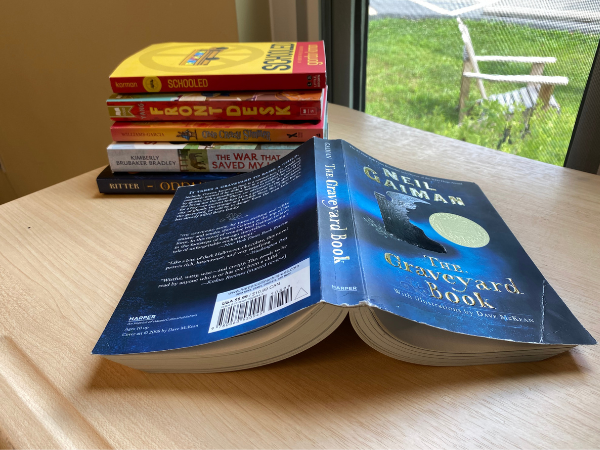 Benefits of Summer Reading
Summer reading is important for students' academic and social-emotional development, but how can they find age-appropriate books that are also interesting and relatable to their experiences?
As this 2021 post from Scholastic points out, "Summer reading is critical, not only for helping kids maintain learning while school is out, but also for fostering social–emotional development, discovering the joy of stories, and elevating the importance of lifelong learning."
Summer reading—even 15-20 minutes a day—helps students with dyslexia and other language-based learning differences: it will keep their reading, retention, and decoding skills sharp in preparation for the coming school year. Regular reading also helps students' social–emotional skills by sharpening their awareness of the world, as well as increasing their empathy and ability to understand various points of view.
Getting students to read over the summer can be a challenge. But knowing what their peers have read and enjoyed can help, especially when students have diverse stories, characters, identities, and genres to choose from.
Summer Reading Recommendations for Teens and Tweens
At the end of the school year, Siena teachers shared summer reading packets, which included recommendations and class readings for students across all grade levels. Teachers typically assemble their own reading lists to share with students, and they always choose a variety of books that reflect Siena's diverse community and curriculum. Here are some of the books Siena's students have been reading this summer:

To further help students and parents, Siena Humanities chair and middle school English teacher Beth Fabijanic shared that the Young Adult Library Services Association (a division of ALA) offers ample recommendations for teen/tween readers, including: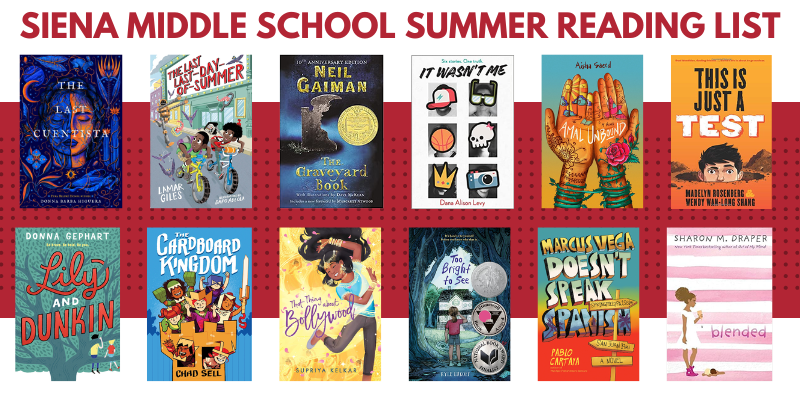 Students who prefer to listen to books—or who perhaps want to read along while listening—should also explore the audiobook selections on Amazing Audiobooks for Young Adults, Learning Ally, Audible, and Audiobook Sync (which updates free audiobooks for teens every week).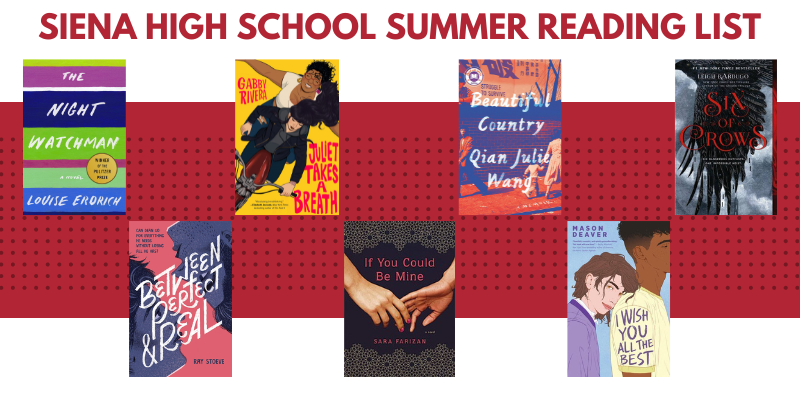 Resources for Summer Reading
"Children often react very differently when a parent or teacher tells them to do something compared to when they make a decision on their own," this Dyslexia Resource post from 2020 observes. "When age-appropriate, encourage growing readers to develop their independence by allowing them to create their own summer reading schedule. While beginner readers should read around 20 minutes each day, leave the rest up to your student."
Choosing their own daily reading time can give students a sense of control over the process, while the routine of summer reading can prepare them for the more structured days of the school year.
Here are some additional resources to help students with summer reading:
Siena's blog has more helpful resources for summer, including how students can improve their technology skills over the summer and how summer academics and camps can be beneficial.
Recent Posts
Categories
Archives